On Sept 15th, Stack Overflow turned 5 years old. StackOverflow has absolutely taken over the programmer Q & A segment of the web, and I'm personally semi-active on a couple of StackExchange sites.
In those 5 years, Jeff Atwood, Joel Spolsky and others behind StackOverflow have made a public enemy out of their competition – primarily Experts Exchange, the site notorious for putting content behind paywalls and gaming Google to get higher positions in search results.
I've been watching Stack Overflow's growth from a unique position: I used to work for Experts Exchange. I have friends who still work there. I've seen the company from the inside out, and though I know it won't gain me much love from those on the SO bandwagon, I feel the need to address the silliness that has happened over these 5 years with regards to Experts Exchange, the company.
Let me start off by saying I respect Jeff Atwood and Joel Spolsky for what they've contributed to programming in general. StackOverflow is only one of their many achievements to which I am indebted. Joel's essays on programming had a huge positive influence on my early career.
However, I think their public, negative campaign against Experts Exchange was excessive, mean-spirited, and at the very least immature and silly. Admittedly, it worked – they've achieved their goal, and "death to EE" became the rallying cry. But when you've seen a company from the inside, you view it as more than just a corporate entity – it's a collection of people. The company doesn't act or react as a company; rather, the people in the company make decisions and suffer the consequences of those decisions. I try not to get too connected to companies or business ties, but when people make your company a public doormat, it's hard not to feel a little bit sad – especially when you've poured years of your life into it.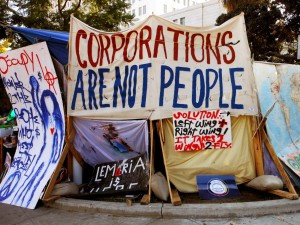 I'll be the first to admit that it's difficult – if not impossible – to conceptualize every company as the sum of the decisions of its employees. How much easier it is to say "that company does spammy marketing" than to imagine a situation where employees of said company are struggling to keep a company they love afloat, and that they made some mistakes along the way? But I think it's worth asking the question:
What great evil did Experts Exchange do?
It might help if I give you a personal insight into Experts-Exchange, the company. They took me on as an intern, and then hired me on full time. I spent about 1 year there, and it would have been longer had I not needed to move from the area for family reasons. San Luis Obispo is an extremely desirable place to live and there are only a handful of tech jobs in the area.
The salary at EE was probably below average, but as anyone in my industry will tell you, salary is only one part of the "good job" equation. Experts-Exchange took good care of us during my tenure. Unlimited drinks, bottomless snack drawers, a fancy coffee machine that made 1 cup at a time, gym memberships, ping pong tables, laundry service (lots of people played sports at lunch and the company would do laundry every few days), and ergonomic chairs were the start of the perks. It wasn't Googleplex-level, but it was above average and was completely unnecessary in many cases – nobody was asking for laundry service, the owner just decided on his own to start it. It was hands down a pleasant place to work. Working hours were 8-5, and working overtime was the exception, not the rule.
"But", you might say, "EE was doing some downright evil cloaking/spamming. They might have been good to their employees, but they were wrong to hide content and manipulate Google."
First, let's be clear: EE was engaging in "grey hat" SEO. Whether everything they did was within Google's guidelines is debatable (here's a video of Google's Matt Cutts explaining how EE was within Google Guidelines). But the notion that Experts Exchange did something wrong really merits some investigation. Again, imagine them for a minute as a (good) company that, like any startup or bootstrapped business, is trying to stay relevant in a rapidly-changing landscape.
EE's business model started in the early days of the internet. The company pioneered the idea of getting tech help from qualified people online. Have a look at this early t-shirt promotion – the equivalent of a gold badge on StackOverflow.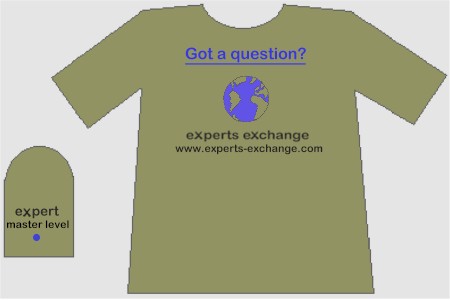 EE built an online community that helped people get answers to technical questions quickly. Like any company that wants to exist in 5 years, they had to monetize their offering. In 2000 and earlier, a monetization method like StackOverflow Careers simply didn't exist. So they made an innocent, logical choice: they'd charge for access. And it worked – really well.
I should pause here and address the compaint about "charging for crowd-sourced answers" I've heard on occasion. The implication is that EE uses the hard work of the "experts" answering questions solely for its own benefit. It's a little known fact that top contributors to EE got VIP treatment. They were flown to different locations around the world, wined & dined, and got lots of cool swag (computers, tablets, etc). When the experts came to visit us in San Luis Obispo, it was all-out fun for them. Experts on Experts Exchange have the potential to get some sweet perks.
Now, back to EE's business model. Imagine you're running EE in 2009. You have thousands of customers paying for access to your content. Your primary source of new signups is Google traffic. You also have a new competitor who is doing everything for free, and they've got VC funding, thus eliminating their need to make money. You have a few options, as I see it:
Open the content to public access, effectively eliminating your value proposition
Continue trying to drive traffic and convert users to paying customers (at this point, via grey hat SEO)
Come up with a totally new business model
Ask yourself what you would do as CEO, given those options. Clearly, EE went with option #2, which at the time seemed like the "least risky" option. In my eyes, option #1 was not really a choice with 50+ employees' jobs on the line. Option #3 might have been the better choice, but that's easy to say in hindsight – and they still have time to reinvent themselves.
Let's get back to our original question:
What great evil did Experts Exchange do?
The answer: EE tried to outsmart Google, and they lost that battle. Is that worthy of scorn in your mind? As a company, they did some stuff they may not be proud of today – the worst of which was cloaking content and a bait-and-switch of sorts. The question I'd like you to ask yourself is "were they really as bad as they were made out to be?" Maybe you'll say "yes, deceptive marketing is the purest form of evil and they deserve to be mocked and driven into the ground", and that's fine – you're on that bandwagon, and I can't help you get off.
From what I hear these days, EE is reinventing itself, and they've even started selling some products. I happen to know they have some really innovative tools at their disposal – projects that was originally developed for different purposes, but make great sense as products.
My hope is that, having heard the perspective of someone who saw the inner workings of this oft-derided company, you might consider that they are just another small company like the rest of us, and that while they've made mistakes along the way they don't deserve the scorn they've received. I'm sure many will disagree. I just wanted to give you the other side of the story. As for me, I might dust off my EE account and answer a few questions, for old times' sake.